2018年10月04日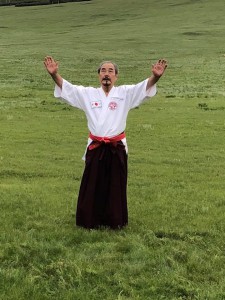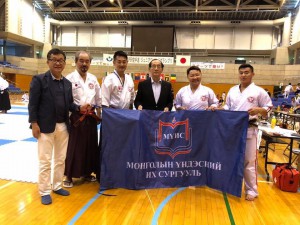 Guidelines of the Super Karatedo  Mongolian National Open Koshiki Karatedo Championship
THE HISATAKA CUPNamed After Dr. Masayuki KUKAN HISATAKA, Kensei, 10th Dan Founder of World Koshiki Karatedo Federation & Rector of Karatedo University
Organized by The Mongolian National University
We are happy to bring you the guidelines for the Dr. Masayuki KUKAN HISATAKA, Kensei 10th Dan, the world-renowned W.K.K.F. Koshiki Contact Karatedo International Seminars and Championship to be held in Ulaanbaatar, Mongolia on Friday, November 16th, Saturday the 17th, and Sunday the 18th, 2018. We invite you to join in and demonstrate your skills, talents and respect for the Combat Arts.
The Purpose of the Tournament  • To develop and popularize Super Karatedo in Mongolia • To develop health education for children and youth  • Winners of the tournament may represent national teams in the "Tokyo 2020 Olympic Games".
Principal Organizer   Mongolian National University  Official website: mnu@edu.mn  Contacts: 99171177, 89180800
 Co-Organizers  1. The World Koshiki Karatedi Federation Masamitsu Kudaka, Hanshi, 8th Dan, Professor 2. Karatedo University, Switzerland & Japan  Dean of the Academic Faculty, Dr. Jeffrey Henderson, Renshi 6th Dan  3. Mongolian Super KARATEDO Organization 4. Karate Federation of Mongolian Olympics  5. Mongolian Olympic Committee 2018
Schedule of the Tournament & Official WKKF Super Karatedo Seminars and Workshops
1. November 16th: Friday: Official International Dan Degree Diploma Seminar   2. November 17th: Saturday: Official International Referees Certification Seminar  3. November 18th, Sunday: Official International Instructor Licensee Seminar
Tournament Location   Mongolian Football Palace, Ulaanbaatar, Mongolia
Registration Date  Registration will be held in the Mongolian National University until November 15, 2018
Competition Age Groups  The competition is organized between age of 16-17 and 18-39.
Type of Competition
1. Super Karatedo – Kumite Competition –Individual  2. Classic Kata Contest – Individual  -Senior Men, Senior Women, Junior Boy, Junior, Girl 3. Team Competitions:  -Adult Team: Man & Women – Three persons for each Team 4. Kata-Bunkai Kumite Contest:        -Three person teams (any age or gender) to perform        -Prearranged Kata-Bunkai Kumite        -Each person represents: a) unarmed (Go-ho) = Punch, Kick & Strike techniques b) unarmed (Ju-ho) =Throw, Armlock & Strangle techniques, and  c) armed (Buki-ho) =Bo (Long Staff) & BOKKEN (Wooden Sword)
KUMITE КATA
Age 16-17 Weight (kg) Age 16-17 Weight (kg) Male (Boys)        63.5 – 73.0 Male (Boys)         63.5 – 73.0 Female (Girls) 54.0 – 61.0 Female (Girls)            54.0 – 61.0 Age 18-39 Weight (kg) Age 18-39 Weight (kg) Adult Male
63.5 – 73.0  73.0 – 82.0 +82.0 Adult Male            63.5 – 73.0 73.0 – 82.0 +82.0 Adult Female -54.0 -61.0 +61.0 Adult Female            54.0 – 61.0 +61.0
Registration Fee Mongolian Athlete – $ 50.00 Other Athletes – $ 100.00 Note: Registration fee includes seminar and tournament fee.
TOURNAMENT RULES
The Competition will be held in accordance with the rules of the World Koshiki Karatedo Federation. All athletes and coaches participating in the event must participate in the seminars. For more information please contact us at 89180800.
Technical Advisory, Weight Watch and Lottery
1. Weigh-In of athletes shall be between 9:00 am and 3:00 pm on November 16, 2018. 2. Technical workshops and seminars will be between 3:00 pm and 6:00 pm on November 09, 2018. 3. Athletes need to bring, athletic titles and certificates, identity cards, birth certificates, passports, health insurance book, ID cards, profile photograph.
Official Accommodation • Office Hotel & Restaurant • Mongolia, Ulaanbaatar City, Bayangel Distrect 16-r khoroo, Gardan street • Tel: 976-93221313,  93228989 • Web: www.Officehotel.mn • FB: www.facebook.com/officehotel • Room Price:  a. Standard: US$ 28.00 b. Deluxe:    US$ 40.00 c. Suite:       US$ 55.00                   • Meal: Lunch & Dinner – US$-15.00
WISHING YOU THE BEST SUCCESS
MONGOLIAN NATIONAL UNIVERISTY KARATE FEDERATION OF MONGOLIAN OLYMPICS WORLD KOSHIKI KARATEDO FEDERATION KARATEO UNIVERSITY (Switzerland & Japan)
---