2017年04月14日
Greetings all, Here is the link to the registration for the Championships in July. from this link you can register all your players for both the world Championships and the Canadian open tournament for the juniors.
Im happy to announce that this year we will be including some junior divisions in the world championships. Ages 12 and 13, ages 14 and 15, ages 16 and 17, and ages 18 and 19. These divisions will be separated into a heavy and light weight categories if necessary. Ages below 12 and junior level practitioners can compete in the Canadian Open Championships. When registering enter the number of players for each type of registration ticket e.g.. world championships, canadian open, Farewell banquet, pre-tournament seminars.
The system will then prompt you to fill out all the registration information. Please note that the World Championship registration includes the Farewell Banquet dinner. Also note that registration for the 2 Seminars on the 28th conducted by Hanshi Masayuki Hisataka 10th dan and Hanshi Masamitsu Kudaka 8th dan is available. All competitors are strongly encouraged to attend these seminars all are welcome!
this year marks the 50th anniversary of Hanshi Hisataka coming to Canada in 1967. please Contact me with any questions or if you need any help with the registration. To Access the registration a password is required, use – koshiki2017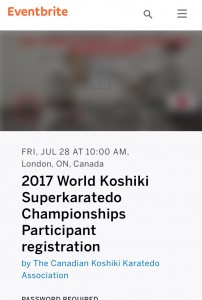 ---