2020年11月06日
2nd WKKF Organizing board skype meeting has been held.
President Masayuki Hisataka
Chairman Masamitsu Kudaka
Shihan Ciaran from UK, Shihan Coleman from US, Shihan Lerk from Netherland, Shihan Lotze from Germany, Sensei Ramalhete from Portugal Shihan Riley from Australia were attended.
Topics about report from each countries.  We also discuss about Next year 2021 events for WKKF in Europe.
We are planning to have Open Championship and seminar in Portugal Elvas on next year September.
Kata contest will online championship.
Kumite competition will be Onsite.
Bunkai Kumite contest will be on site.
Nest meeting will be December 4th 2020.
Keep updated!!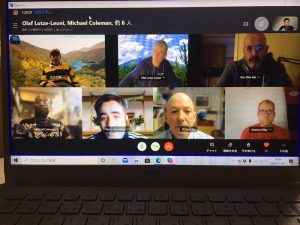 ---