2017年09月28日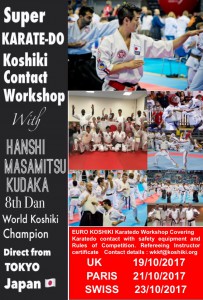 Welcome to Euoro Koshiki Karatedo Seminars.
Koshiki contact Karatedo is competition rules for eny style of Karatedo. you can use the shuto, uraken, yokogeri such kind of original technique you can taste and contact with safaty equipment Super safe Bogu. you can learn actual fighting with safety rules and clear jugement.
Seminars providing workshop for introduction of Koshiki Karatedo , Rules Refereeing, coaching, Instructors.
All Seminars provide Hanshi Masamitsu Kudaka 8th Dan from Japan Headquarters.
Koshiki Karatedo is not only sport but also Japanese Budo education to young generation.
Please join and enjoy our Karatedo training.
Entry fee and time, venue Please contact each country representative Shihan.
19th October 2017  England  Shihan Ciaran Mitchell   info@wkkf.co.uk
31 Lovelace Drive,
Pyrford,
Surrey,
GU22 8QY
UK
21th October 2017  Sensei Mohamed Belalia  fullcontact.gennevilliers@gmail.com
Gymnase Paul Langevin 76 rue de la couture d'auxerre 92230 Gennevilliers
23th October  2017  Hanshi Mamadou Diallo    mdiallo@bluewin.ch
25th October 2017   Shihan Dr. Henderson
World Koshiki Karatedo Federation
TEL:+81-3-3203-5765
20 Kikuicho, Shinjuku-ku, Tokyo 162-0044 JAPAN
---