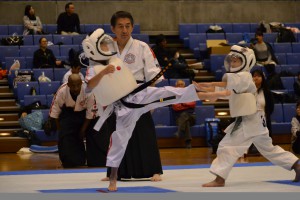 Dear Koshiki Karatedo members and friends,
It is with great pleasure that the organizing committee of Super Karate-do World Grand Prix, WKKF Seminar extend to you our Official Invitation to these prestigious events. These events will be held on 18-19th August, 2018 at the Urayasu City Gymnasium, Chiba JAPAN.
Philosophy of the Event
(1)   To make Super Koshiki Karatedo part of the School Education Program for training the world's youth.
(2)   Aiming to join "Sports Accord" with recognition of Koshiki Karatedo as a safe and clearly judged modern sport.
(3)   To contribute Super Karate-do as a BUDO working towards world peace and friendship.
(4)   Through Koshiki Karatedo training and tournaments, we aim to develop and sustain people who work together for the benefit of their community, their nation, and the world.
The potential of these events to contribute to especially young generation is tremendous. Through such a great opportunity to meet, compete with and exchange friendship internationally, we believe they broaden their international range of vision as well as elevate the level of ability to see, think and act.
Karate Kids from five continents will gather in JAPAN for a friendship tournament including an international championship. We hope for your kind understanding and support, and strongly urge you and your students to attend
Yours Sincerely
Prof. Masamitsu KUDAKA, HANSHI 8th Dan
Chairman of organizing committee
Chairman World Koshiki Karatedo Federation
Date:       Sunday August 19th   9am-5pm
Saturday August 18th  9am-5pm
Venue:        URAYASU General Gymnasium, URAYASU City, Chiba Ken, Japan
Organizer:     World Koshiki Karate-do Federation
Sponsorships       National Federation of UNESCO Association, NIKKAN Japan Daily  Sport News Paper,
Urayasu City, Urayasu City Board of Education  Urayasu Tourism Convention Association,
Urayasu Foundation    Embassy of Mali, Argelia, Tunisia, Nepal, Georgia, Azerbaijan
Competition:
KUMITE Competition
KATA Contest
Junior Boy  Age 7 – 8
Junior Boys and Girls  Age 7 – 8
Junior Girl  Age 7 – 8
Junior Boy  Age 9 – 10
Junior Boys and Girls  Age 9 – 10
Junior Girl  Age 9 – 10
Junior Boy  Age 11 -12
Junior Boys and Girls  Age 11 -12
Junior Girl  Age 11 -12
Junior Boy  Age 13 -15
Junior Boys and Girls  Age 13 -15
Junior Girl  Age 13 -15
Junior Boy  Age 16 -18
Junior Boys and Girls  Age 16 -18
Junior Girl  Age 16 -18
Rules:     World Koshiki Karatedo Fedration comepetition rulres
Awards:    Gold Medals for 1st place, Silver Medals for 2nd, Blonds Medals for 3rd
Disney Land passport for Winner Both Kata and Kumite
Contacts :  www.koshiki.org   Email: wkkf@koshiki.org  Online entry
TEL/FAX : +81-3-3203-5765
Address:  20-21 Kikuicho, Shinjuku-ku, Tokyo 162-0044 JAPAN
Entry Fee : WKKF Individual member JPY2,500
Kumite JPY3,000  Kata: JPY 3,000    Kumite and Kata both entry JPY5,000
Special events:  Sayonara Party
Date:  August 19th  7pm-9pm
Venue: Tokyo Bay Maihama Hotel
Fee:  5,000JPY Buffet
Homestay program:  We can provide host family from Urayasu International Friendship Association
Reccommend Accommodation:
Tokyo Bay Maihama Hotel Club Resorts
ACCESS FROM AIRPORT By Airport Limousine Bus
From Narita Airport
Fare: Adult 2,450 yen, child 1,230 yen
Time: 75 – 80 min/ one way
For further information : http://www.limousinebus.co.jp/en/
World Super Karate-do Cultural Exchange Festival
We invite all supporting companies, local URAYASU businesses, Embassies of participant's countries, etc. to hold booths inside Gymnasium.  In addition there will be a Special Pavilion for demonstration of Karate, music, dances, etc.
Brochure Advertising(A4 size)
1 page with color     1 page       1/2 page        1/4page
JPY100,000     JPY60,000     JPY30,000     JPY20,000
| | | |
| --- | --- | --- |
| Dojo MemberCompany support Member | JPY20,000JPY30.000 | Brochure 1/4 Web linkBrochure 1/2  Web link |
| Material support | | Budo supply, Foods, drinks, awards, Memorabilia |
| Individual, honorary member | JPY10.000 | Brochure Web link |
| Gymnasium booth commercial | JPY30,000 | Brochure Web link, Booth |
| Tournament venue Advertising | JPY300.000 | Brochure 1page Web top linkContest aria advertising, Booth |
We accept Bank transfer, Western Union or PAYPAL
Payment Remittance;
World Koshiki Karate-do Federation .Rep. Masayuki HISATAKA
MUFG Bank, Ltd. / Swift code ; BOTK JPJT
Urayasu Branch 361 , Account No, 0860535   Tel ; 81-47-354-3341
1-17-11 Kitasakae ,URAYASU city , 279-0002 Chiba-Pref ,Japan
Individual Membership application form
---