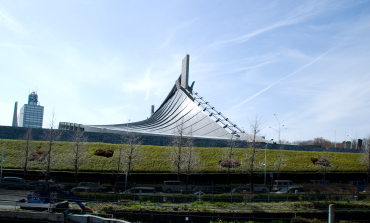 In 1978, Masayuki Kukan Hisataka (Hanshi 9th Dan) designed new safety equipment called "Super Safe" to enable full execution of Punching, Striking and Kicking techniques in Karate without fear of injury. Together with a clear, fixed scoring system, a new revolutionary form of "Sports Karate" was developed.
In 1980, the 1st International Friendship Koshiki Karatedo Championship was held at the National Yoyogi Second Gymnasium (Tokyo, Japan). National teams from countries including Canada, the United States, Australia, Switzerland, Venezuela, Colombia, Argentina, Spain, India, Singapore, the Philippines, Taiwan and Hong-Kong took part in the event.
Mr. Shigeyoshi Matsumae (President of Nippon Budokan and Supreme Advisor to Tokai University at the time) was designated Tournament Chairman, while the Japanese Prime Minister at the time, Mr. Toshiki Kaifu, was present as Senior Advisor.
This was the beginning of the World Koshiki Karatedo Federation.
In 1981, the newly invented sport "Koshiki Karatedo" generated much excitement throughout Japan. Instructors and representatives from different Karate styles and circles gathered to create the "All Japan Koshiki Karatedo Association" (later changed to "All Japan Koshiki Karatedo Federation"). Various martial art competitors, ranging from full contact, non-contact, Bogu Karate, Nihon Kempo, Shorinji Kempo and Taekwondo, came together and held the first All Japan Koshiki (Contact) Karatedo Championship (with Mr. Tokuichiro Tamazawa, Parliament member and Former Chief Secretary of State for Defense, as Tournament President; Mr. Keizo Obuchi, the Japanese Prime Minister at the time, was present as Senior Advisor).
Organizing, Managing and Supporting Every Type of Tournament
WKKF works to organize, manage and support tournaments both national and international.
After the WKKF organized the first world championship in 1980, it has since held 32 Japanese national championships (as of September 2015) and 20 world championships (as of November 2015).
Referee License, Dan Grade Certification
WKKF certifies, maintains and manages Referee Licenses and Dan Grades.
WKKF regularly holds seminars and examinations. You may be certified by participating in these events, as well as completing a written test, practical examination and/or thesis.
WKKF also holds regular seminars and lecture classes for human resource development and for improving karate techniques.
Organizing a National Team for an International Tournament
WKKF works to organize national teams for every country and region to participate in international tournaments.
Daily training is crucial to enhancing each teams' skills and abilities. The result is the augmentation of everyone's techniques on a worldwide level through international competition.
Instructors are also sent to each country and region to assist in instructing and improving the level of each local karate association.
Membership Management
WKKF maintains and manages all memberships worldwide, as well as membership services and developments.