2023 Koshiki Karatedo International Gathering in Okinawa
Dear Koshiki Karate-do friends, colleagues and associates;
The International Organizing Committee takes great pleasure in extending to you our official invitation to the 'Koshiki Karatedo International Gathering 2023'.  This prestigious cultural event will be held on the 22nd, 23rd July 2023, at the famous Okinawa Prefecture Karate Kaikan, Okinawa, JAPAN.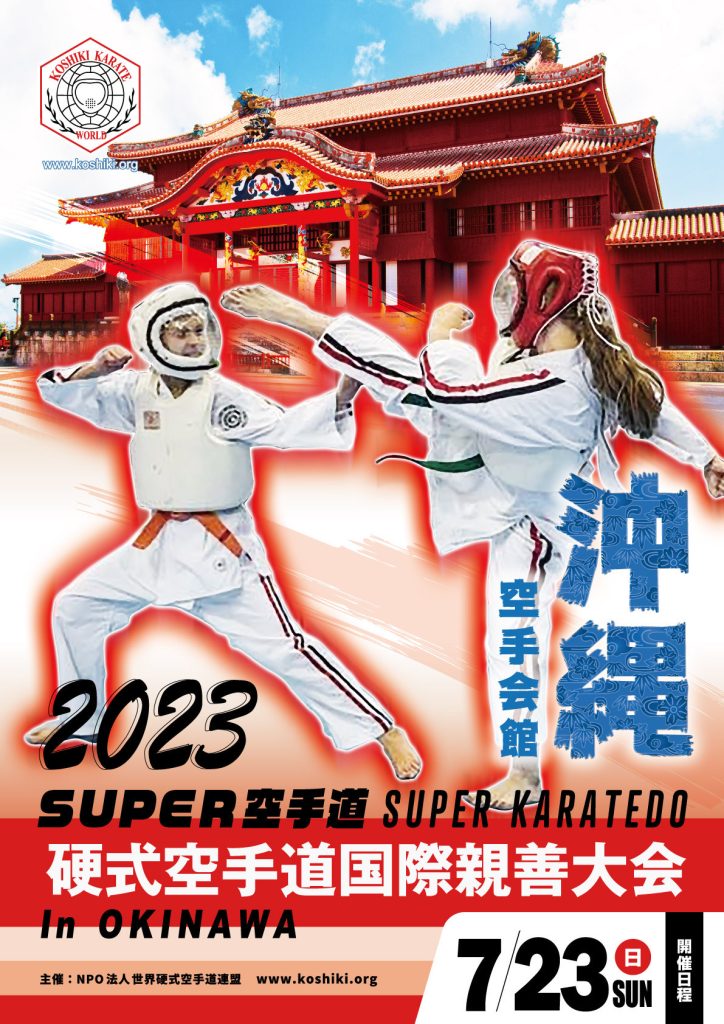 You are invited to partake in;
(1) Official welcome to the Koshiki-Karate-do gathering and workshop event, 'Reconnecting to the Birth Place of Karate'
(2) Experience the wonderful local Okinawa culture and festivities
(3) Contribute to BUDO through Koshiki Karate-do that promotes world peace and friendship
(4) Develop and support young people working together for the benefit of their community, their nation, and the world
Koshiki Karate-do family from five continents are cordially invited to meet in OKINAWA for this International gathering that also includes a friendship tournament, Workshop and cultural exchange. This forum will encourage young people and our youth to compete at an international level, build new friendships and develop a broader understanding of other people and their cultures. Our young athletes will benefit in all ways through this educational experience.
We look forward to your continued support and to seeing you and your students at this festival.
Yours Sincerely
Prof. Masamitsu KUDAKA, HANSHI 8th Dan
Chairman: World Koshiki Karatedo Federation
Date: July 23rd 2023 9am-5pm Koshiki Karatedo Friendship Tournament
July 22nd 2023 9am Kata Competition 1pm Koshiki Karatedo Workshop
Venue: Okinawa Karate Kaikan
Organizer: World Koshiki Karate-do Federation
Sponsorships Shorinjiryu Kenkokan Karatedo, International Karate Kobudo Masters Assembly
Competition:
KUMITE Competition
KATA Contest
Junior Boy Age 7 – 8
Junior Boys and Girls Age 7 – 8
Junior Girl Age 7 – 8
Junior Boy Age 9 – 10
Junior Boys and Girls Age 9 – 10
Junior Girl Age 9 – 10
Junior Boy Age 11 -12
Junior Boys and Girls Age 11 -12
Junior Girl Age 11 -12
Junior Boy Age 13 -15
Junior Boys and Girls Age 13 -15
Junior Girl Age 13 -15
Junior Boy Age 16 -18
Junior Boys and Girls Age 16 -18
Junior Girl Age 16 -18
Senior Age Men +19
Senior +19 Male Senior +19 Female
Senior Age Female +19
Senior Age Male +40
Senior +40 Male Senior +40 Female
Senior Age Female +40
Rules:     World Koshiki Karatedo Fedration comepetition rules
Awards:    Gold Medals for 1st place, Silver Medals for 2nd, Bronze Medals for 3rd        
Entry Fee:   Tournament  Junior JPY5,000     Senior JPY7,000    Seminar JPY5,000
Deadline: June 20th 2023
Contacts: www.koshiki.org Email: wkkf@koshiki.org TEL: +81-47-354-3018
Address: 3-70 D1-1 Irifune, Urayasu City, Chiba 2790012 JAPAN
Payment Remittance; We accept Bank transfer, PAYPAL
World Koshiki Karate-do Federation .Rep. Masayuki HISATAKA
MUFG Bank, Ltd. / Swift code ; BOTK JPJT
Urayasu Branch 361 , Account No, 0860535 Tel ; 81-47-354-3341
1-17-11 Kitasakae ,URAYASU city , 279-0002 Chiba-Pref ,Japan