Australia Super-KarateDo Seminar Tour with Hanshi Masamitsu Kudaka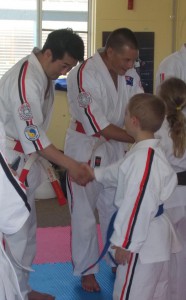 Super-KarateDo Seminar Tour with Hanshi Masamitsu Kudaka was co-hosted by Kyoshi Nick King 7th Dan WKKF and Shihan Andrew Riley 6th Dan WKKF on the 11th and 12th of March 2017.
These seminars where a great opportunity for Australian Koshiki Contact competitors focused on basic to advance Koshiki Contact Karatedo techniques. This allows the Australian competitors the opportunity to further enhance and develop their techniques for the Koshiki Contact compertition format.
The seminars where attend by over 85 participants from JinRyuKan Dojo/ Nick king Lifestyle centre Inverell, Shorikan dojo/ Chaffeys Black belt academy Tamworth, Kaishin Taekwondo Dubbo, Kenryukan Karate Jutsu and Titans Martial Arts academy Brisbane.
The seminars where broken into Juniors and seniors seminars, as this allowed Hanshi Masamitsu Kudaka and senior WKKF instructors the opportunity to focus on and develop each group to their maximum potential.
All the participants found this to be very beneficial and helpful with their training and preparation for the upcoming WKKF calendar of events.
Kyoshi Nick King would like to thank Inverell mayor Paul Harmon, King family, The McDonald family from Bindaree Beef, Senior black belts, students and families for their support.
Shihan Andrew Riley would like to thank New Farm State School P&C president Rachel Kendrick, Perfect Potions, Boxr gym, P&L fresh meats for their wonderful support and sponsorship. Also to Aline Amoedo, Robyne Lenton, Ian Bailey and Dennis Ellis for their amazing support and help with running the Brisbane seminar.
Report by Shihan Andrew Riley 6th Dan WKKF Titans Martial Arts academy Brisbane