NSW Koshiki Contact Karate Country Championships in Tamworth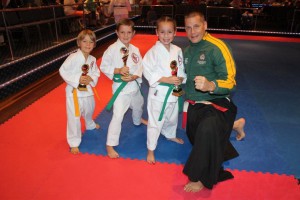 The first Koshiki Contact tournament of the 2017 calendar was hosted by Kyoshi Clint Chaffey 7th Dan and Shihan Scott and Kristie Chaffey 6th Dan of the Chaffeys Black belt academy. This event was held at the West Tamworth Leagues Club on the 2nd of April in Tamworth NSW Australia.
This Koshiki Contact tournament was attended by many dojos/clubs from the rural New South Wales State. Kyoshi Nick King 7th Dan of the JinRyuKan had many competitors who competed and did extremely well. Other dojo's who attend where Shorinjiryu KoshinKai from Coonabarabran, lead by Shihan Graeme Bowden, Sensei Dean McKernan and Titans Martial Arts Academy Brisbane lead by Shihan Andrew Riley.
This event had over 90 competitors from as young as 5 years old to senior venters over 35 years old. All the competitors did an amazing job, and competed in the highest level of sportsmanship and technical standards.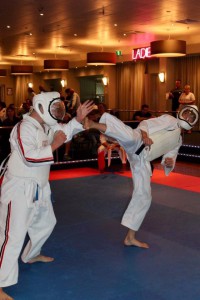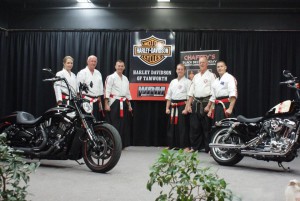 This is the third year the Chaffeys Black belt Academy has hosted this event and each year continues to grow both in competitors and gaining great exposure though the local media and sponsorship. The Chaffeys Black Belt Academy would like to thank the following local business for their ongoing support and sponsorship with this Koshiki Contact Karate-Do event.
Western Ranges Motorcycle, Tamworth Trophies, Melsmellies your Independent Scentsy Consultant and Lind & Andrew Brice Photography for the actions shots from the Tournament.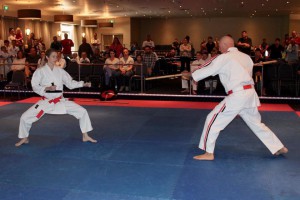 Kyoshi Clint Chaffey 7th Dan and Shihan Kristie Chaffey 6th Dan did an Okinawa Matayoshi Kobudo Kumite demonstration.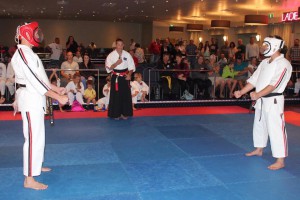 Kyoshi Nick King, 7th Dan WKKF, Shihan Scott Chaffey and Shihan Andrew Riley, gave a demonstration before the Shiai events to explain and demonstrate the correct scoring techniques and also the fouls that would be penalise. This was great demonstration as this allow many new competitors and their families to understand the scoring system used in Koshiki Contact Karate-Do.
Report by Shihan Andrew Riley 6th Dan WKKF Titans Martial Arts academy Brisbane